Germany takes a long-expected step to drive forward the adult-use cannabis market in Europe, the global export market adjusts to develop domestic agendas, and the UK has a choice to make.
Last week (12 April 2023) saw the German government put forward its formal proposals to legalize the cultivation, possession, and consumption of cannabis for recreational purposes (otherwise known as the "adult-use market" as opposed to the "medicinal market") . While the proposals have been long expected, they did not extend as far as some may have wished but do still, if implemented as planned, represent the most significant development in the journey of cannabis in Europe as it steadily rises to become one of the fastest growing new markets to develop in recent times.
What measures have the German government proposed?
Last October the German government presented a cornerstone paper in which it planned to follow a distribution system akin to that in place in the Netherlands (the proposed supply system being notably different), with adult-use cannabis for sale in Dutch style coffee shops as well as pharmacies, with the German health minister, Karl Lauterbach, hailing it as a "model for Europe". Mr. Lauterbach took his proposals to the European Commission to seek their input and opinion prior to any implementation so as to avoid any embarrassing U-turns (such as those that infamously affected Angela Merkel in her fourth terms as chancellor regarding tolls on the autobahn).
And so, whilst the European Commission has not openly sent Mr. Lauterbach returned to Germany with his tail between his legs and back to drawing board, they appear to have been critical enough in response to cause him to significantly water down those initial plans, and instead plot a course now more in keeping with that adopted in Spain , rather than that of the Netherlands.
The proposals allow for the creation of "cannabis social clubs" for members aged 18 and above, with those over 21 able to obtain up to 25g of cannabis in a day and up to a maximum of 50g in a month, and those between 18- 21 is limited to 30g in a month. Note that consumption of cannabis on the club's premises will be prohibited, as well as near schools or kindergartens, and not in pedestrian areas of towns until 8pm. It would also no longer be illegal for adults to grow cannabis within their own home, with three female flowering plants permitted. There are also unconfirmed reports that the German regime will limit the THC content of the cannabis to only 10% for persons aged 18-21, and 15% for those over 21. By way of context, in the United States Humboldt Seed Co. have recently mixed a sativa hybrid 'Hella Jelly' with the 2019 Emerald Cup-winning 'Runtz' grown by Ridgeline Farms, resulting in a new strain named 'Jelly Donutz' clocking in at a whopping 34% THC. Accordingly, there is some skepticism in the market that users will actually engage with the German legalized system if the cannabis on offer simply does not match what they can access relatively easily on what is increasingly a commercialized and risk-free black market.
A second phase is planned, lasting five years, that will establish regional "model projects" aimed at sounding out commercial supply chains and the necessary infrastructure, leading to state-controlled "specialist shops". This phase will be scientifically monitored to see how child protection is affected, if at all, as well as the effects on the black market and the health system.
Watered down or not, Germany is now the largest country in the world to have legalized adult-use cannabis in this way and marks a watershed moment in the commodity's global development.
Implications of adult-use legalization for compliance with international law
The central basis for international control of the movement of cannabis around the globe is the 1961 UN Single Convention on Narcotics (the "Single Convention"), which is enforced by the International Narcotics Control Board (the "INCB"). The key provisions are as follows:
Article 36: calls for criminal penalties for the "cultivation, production, manufacture, extraction, preparation, possession, offering, offering for sale, distribution, purchase, sale" of drugs, including cannabis; and

Article 4: regarding supply, calls for signatories, "subject to the provisions of this Convention, to the limit exclusively to medical and scientific purposes the production, manufacture, export, import, distribution, trade, use and possession of narcotics".
Regarding Article 36, 'possession' in this context has generally been considered to mean 'possession and use for the purposes of trade', which has allowed countries to reduce the level of criminalization attached to the possession of cannabis for personal use.
It would seem to be clear, however, that the legalization of adult-use cannabis falls foul of Article 4, and it is indeed the case that countries that have proceeded to legalize do so knowing that the INCB does not consider their justifications to be legitimate . For example, the Netherlands and Switzerland hold that their adult-use legalization is within the Single Convention, classifying it as for medical and scientific purposes, namely "pilot trials" giving them valuable data on the health and wellbeing of their citizens, whereas Canada goes the opposite way and openly accept that they are in breach. In the United States, they seek a workaround by holding that the Single Convention only applies at a federal level where adult use of cannabis is still prohibited.
Thus, whilst it appears that signatories are willing to 'fudge', or indeed ignore, Article 4 somewhat as regards internal legalization and trade of adult-use cannabis, where they are as yet unwilling to contravene is regarding importing or exporting such material across international borders for recreational purposes. Save for a signatory withdrawing from the Single Convention and re-joining with a caveat on this prohibition, or jurisdictions coming together to force a new interpretation under Article 41 of the Vienna Convention on the Law of Treaties, it does not appear that this current situation is going to change anytime soon.
Accordingly, whilst Germany, for example, imports almost all of its medicinal cannabis from Canada to service that market, the proposed legalization of adult-use cannabis will require them to quickly establish a vibrant, cost-efficient, and plentiful, domestic production line. This is, and will be, the same for any and all jurisdictions who seek to implement an adult-use market without further contravening their international obligations. In effect, we are witnessing forced protectionism flying in the face of the principles of free trade.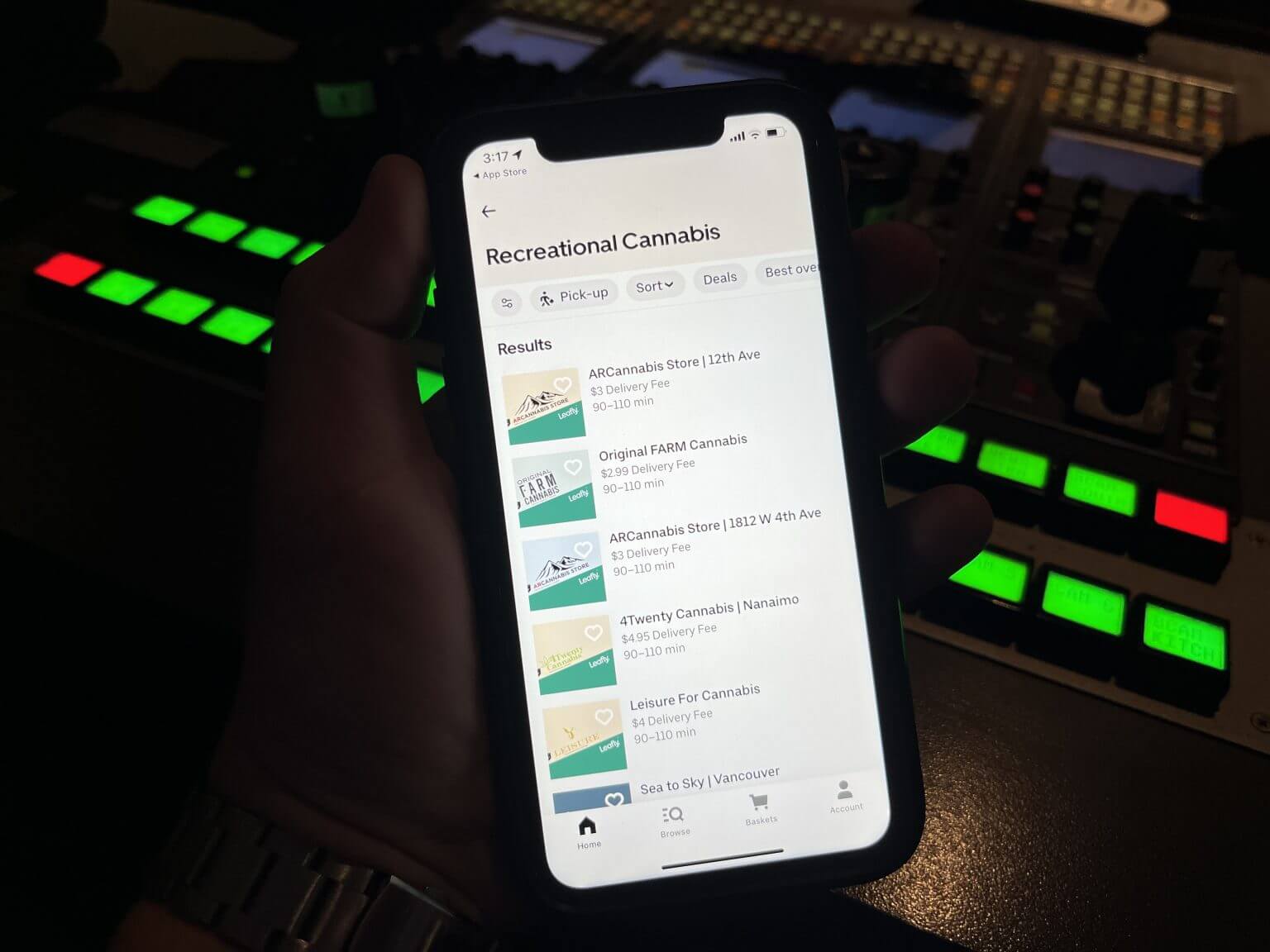 Canadian citizens are now able to order adult-use cannabis directly to their homes via Uber Eats.
The current state of the global market and looking ahead
It is well established that Canada is the most advanced country in terms of legalization and implementation of an adult-use market. In the years since those steps were taken, we have seen a burst of suppliers, extremely high prices causing customer frustration and continued use of illegal trade, leading to a contraction in suppliers due to a congested market, resulting in prices dropping off as supply becomes more streamlined, corporate, and consolidated.
In terms of exporting, whilst Canada increased exports by weight by 50% in 2022 from 2021, the value of the exports increased by only 32%. If one were to look only at graphs, it would appear that the market is stalling, and falling rapidly. Indeed, metrics would show a market in a state of flux, with capital raisings down 65% in 2022 compared to 2021, the number of M&A deals falling sharply (volumes down 80%), and the wholesale price of mid-range THC products in Canada falling by 20% in 2021 alone.
However, all of this has to be taken in the context of not only the Covid-19 pandemic and Russia's invasion of Ukraine (which impacts key products required such as fertilizers), but also the simple fact of an industry developing into something more mature and settled. As supply chains become more established, as domestic markets begin to ramp up production, and larger or state-backed entities look to buy in bulk with solid purchasing power (and centrally controlled pricing), we will witness adjustments in the wholesale pricing of products, and the impact of that on companies' balance sheets and forecasts. These are natural corrections which are necessary and inevitable to lay the groundwork for the further growth that is to come.
Whatever the case, whilst Canada has shown the way, it should be viewed as a case study, and not necessarily the blueprint for future growth. Germany appears to have taken this view, and by implementing these initial measures by the end of the year, with the phased second stage over 5 years, they look to responsibly and resiliently build a domestic production market. This market will, in the future, service not only the adult-use market, but likely the medicinal market as well. If that be the case, with centrally dictated pricing, and any necessary European Union Good Manufacturing practice ("EU-GMP") priced in, one can envisage a Germany, or any other medicinal importer with a developing domestic adult-use market, no longer being solely reliant on Canadian imports, or at least being able to domestically produce at such a price to force their import prices down.
Whatever the case, the global cannabis market is estimated to be worth, in terms of sales, somewhere around US$44.2 billion today, and is estimated to break US$100 billion by 2026.
What is the current state of the cannabis market in the UK?
As regards the medicinal market, the UK is set to become the second largest in Europe this year, behind Germany. This is not, however, driven by an increase in prescriptions through the NHS which remain practically non-existent, but instead through private clinics offering cannabis-based treatments. Indeed, data from the NHS Business Services Authority estimates that in 2020 there were 4,000 privately prescribed cannabis items in England, in 2021 there were 40,000, and in 2022 almost 77,000. That is an extraordinary increase in such a relatively short period of time, and given these are all private prescriptions, the new and increased level of turnover is clear to see.
However, the costs are not insignificant, especially due to the fact that an importer of medicinal cannabis must have a letter from a UK-based doctor approving the import, with each letter being permitted to be used only once and costing around £1,000 each time. Accordingly, relationships have formed between doctors who are willing to write such letters and clinics, with it being reported that there are only around 100 doctors in the UK actually doing so, and about 20 active clinics in the market (with 3 dominating about 60% of the market). For a market growing so fast, the number of active participants on the logistical side is still very small.
It should be noted that the UK is only making a headway in the medicinal market at the moment and shows very little sign of taking steps as regards the adult-use market. It has been speculated for some time, aided by active research by cross-Parliamentary groups, that the UK was on the cusp of change. However, rumors circulated in late 2022 that the Home Secretary Suella Braverman was considering upgrading cannabis to a class A drug, on a par with cocaine and heroin, and whilst the Prime Minister distanced himself from that position, it does not look like a major change is on the cards any time soon. Indeed, the leader of the Labor party, Sir Keir Starmer, has also made his anti-liberalization position known. That being said, should Germany's regime prove effective, and tax beneficial, we may see a post-EU UK looking more favorably at the adult-use market.
Aside from developments at home, the UK government has not shied away from imposing itself on its former colonies, notably causing a potential constitutional crisis when Liz Truss, at the start of her ill-fated tenure as prime minister, refused to give Royal Assent to the Bermudan government's Cannabis Licensing Act, which would have permitted an adult-use cannabis market. You can find our colleagues' Charles Kuhn and Gabriella Bligh article on the same here, and as published in The Times.